Have you ever truly wondered why there are so many surgical blade options available?  How do you know which one is right for you? Each surgical blade is unique.  There are the obvious shape differences because blades are manufactured specifically for certain surgical techniques. But the real answer comes from the quality of the steel used to produce the blade and the technology behind the cutting edge grinding of the blade.
As the recognized global leader in surgical blade manufacturing, the blades that come out of our factory in
Sheffield, England
are made of high quality British steel and ground with an open edge.
That's all great information but what does it really mean?  What it means is that we source the best raw materials available to start the process of making a high quality, longer lasting blade.  As part of the process we've chosen to manufacture the cutting edge of our blades with open edge technology.  That means one side of the blade has microscopic serrations intended to provide a more tactile feel for the user, and ultimately leading to more consistency from cut to cut.
We've put together the following chart to help explain the differences between open edge and closed edge grinding.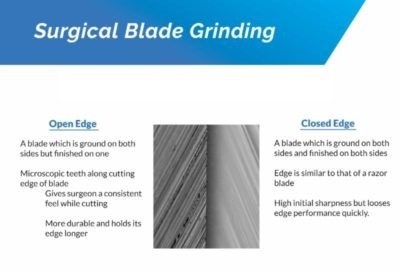 In summary, the microscopic teeth along the cutting edge of the open surgical blade gives a surgeon a tactile feel.  This enables surgeons to have more control and results in more precise and consistent cuts.  The open edge blade will also hold its cutting edge longer, making it a more durable blade.  A closed edge blade will still be sharp, but the edge will dull faster than the comparable open edge blade.
Additional information about our blades is available in the resource section of this website.
To find out more about more about converting your blades to the global leader in surgical blade manufacturing call our office at 800-544-3100 or email csblades@cincinnatisurgical.com.